About Us
The Alaska Children's Alliance supports Child Advocacy Centers and the multi-disciplinary professionals that serve victims of child abuse and their families.
Watch This Video to See How a CAC works
Alaska CARES – the CAC in Anchorage
What is the Alaska Children's Alliance (ACA)?
The Alaska Children's Alliance serves to support the Child Advocacy Centers throughout Alaska. Founded in 2001, we are an independent 501(c)3 and an accredited state chapter of the National Children's Alliance, which sets national standards for best practices.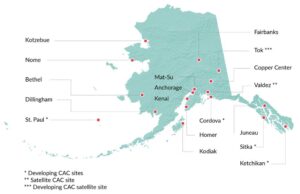 We strive to ensure that professionals throughout Alaska are equipped to do the best job possible at holding offenders accountable and helping children and their families to heal.
Alaska Children's Alliance supports Child Advocacy Centers and their multi-disciplinary partners through statewide initiatives such as:
Tailored technical assistance: We offer technical assistance as questions arise from those in the field, including CAC staff, multi-disciplinary partners, and those from other communities who wish to develop a multi-disciplinary team.
Training: Child maltreatment is a specialized field that requires a high level of ongoing training. ACA coordinates training opportunities for professionals in the field- such as the Alaska Conference on Child Maltreatment and ChildFirst Alaska, a nationally recognized forensic interview training protocol.
Peer review and case consultation groups: ACA supports discipline-specific groups that meet regularly to promote high quality services, accurate diagnosis, and best practice sharing. Currently we host a peer review group for CAC medical providers and another for CAC therapists.
Network building: ACA convenes opportunities for CACs and multi-disciplinary partners to come together in sparking ideas, sharing best practices, and building relationships.
Advocacy and education: ACA provides education to decisionmakers and within the community at large about child abuse, CACs, and the issues facing them.